Cách viết mục tiêu nghề nghiệp trong cv chuẩn
Objectives Summary: My objective is to leverage my experience while continuing to be challenged.
Nhằm giúp các bạn biết cách viết mục tiêu nghề nghiệp trên bản CV tiếng Anh, chúng tôi đã tổng hợp danh sách 50 cách từ người tìm việc thực tế. Bạn có thể chọn lối viết hữu dụng cho mình. Nên nhớ nhà tuyển dụng sẽ không có thời gian đọc tất cả hồ sơ ứng viên gửi về. Hãy nổi bật, ấn tượng để thu hút sự chú ý.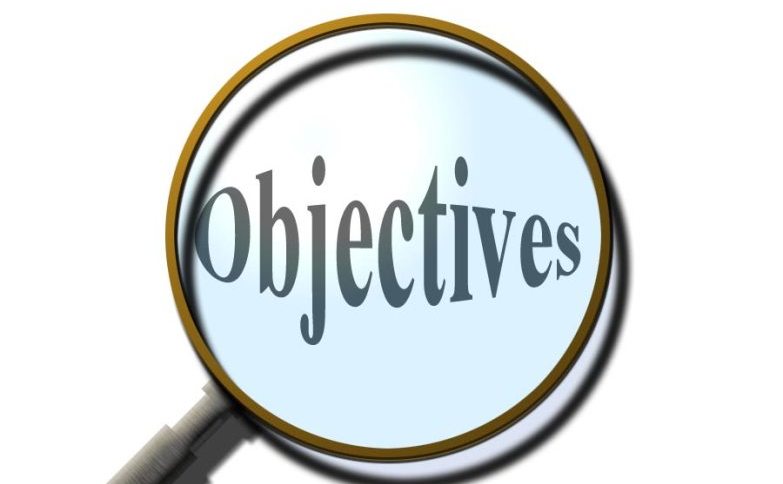 Chìa khóa trình bày mục tiêu nghề nghiệp
– Ngắn gọn (Keep it short): nhà tuyển dụng thường không muốn phải đọc một "danh sách" dài những điều bạn muốn làm. Phải giữ cho mục tiêu ngắn gọn, súc tích. Thông thường dùng 1 câu diễn đạt là đủ ý và trong khoảng 150 từ.
– Khả năng đóng góp (What's In It For Them): dù rằng mục tiêu là những điều bạn muốn cho mình nhưng hãy tập trung thể hiện điều nhà tuyển dụng muốn và bạn có. Phù hợp với thông tin xoay quanh công việc và chức vụ ứng tuyển. Có thể dùng cách liệt kê các kỹ năng, kèm tình huống hoặc kết quả, thành tích để chứng minh.
– Rõ ràng (Be specific): Một số mục tiêu bên dưới không cụ thể. Hầu hết bất kỳ công việc nào cũng cần đề cập mục tiêu. Chú ý về sự rõ ràng, trả lời câu hỏi "Công việc nào, lĩnh vực nào bạn mong muốn?". Hãy nói rằng bạn mong được là một phần trong thành công của công ty. Nếu bạn xác định đã dành thời gian cho hạng mục này trong hồ sơ thì hãy làm cho nó thật hiệu quả.
50 ví dụ tham khảo để viết mục tiêu nghề nghiệp trong CV tiếng Anh
1. Objective: General Manager in an established and successful business.
2. Position Targets: Director of Lean Manufacturing, Continuous Improvement Change Agent, Value Stream Manager, Lean Manufacturing Champion, Process Improvement Manager, Continuous Improvement Leader, Operations Manager and Management Process Improvement Consultant.
3. Objective: Obtain a challenging leadership position applying creative problem solving and lean management skills with a growing company to achieve optimum utilization of its resources and maximum profits.
4. Professional Objective: To continue my career with an organization that will utilize my MANAGEMENT, SUPERVISION & ADMINISTRATIVE skills to benefit mutual growth and success.
5. Objective: I am currently looking for a full time position in an environment that offers a greater challenge, increased benefits for my family, and the opportunity to help the company advance efficiently and productively
6. Objective: Director of Operations/General Manager
7. Job Target: My goal is to become associated with a company where I can utilize my skills and gain further experience while enhancing the company's productivity and reputation.
8. Objective: To secure a position with a stable and profitable organization, where I can be a member of a team and utilize my business experience to the fullest.
9. Objective: To further my professional career with an executive level management position in a world class company. Seek to diversify my skills in another industry and as part of a larger organization. Relocation desirable.
10. Employment Objective: long term consulting project or Permanent Position.
11. Objective: I am pursuing a career as an account manager with limited overnight travel. I am seeking to deliver my research, analytical, as well as presentation skills that will benefit in volume, growth, brand, and profits.
12. Objective: To contribute superior project and operations management skills and experience in an IT Service Management role.
13. Objective: My objective is to obtain a position in a professional office environment where my skills are valued and can benefit the organization. Ideally, I wish to have a focus in marketing for a growing organization preferably dealing in commercial real estate and/or land acquisitions.
14. Objective: Seeking a position as an engineering VP/director/manager in initiatives that utilize state-of-the-art, software and/or hardware components with a creative, technology-driven organization in an environment that encourages innovative thinking, recognition, and career development. Customer interaction is a plus.
15. Objective: To obtain a challenging position in a high quality engineering environment where my resourceful experience and academic skills will add value to organizational operations.
16. Career Objective: A challenging and rewarding Logistics / Distribution Center Operations Management position within the private sector where prior experience, personal ability, and a commitment to professionalism would be of value. Position should allow for continued personal and professional growth commensurate with achievements.
17. Objective: Seeking a fulfilling position in the maintenance industry that offers growth opportunities and allows me to utilize my leadership skills and experience.
18. Short Objective: Seeking position as System Engineer and support of all IT Needs.
19. Career Objective: Position as an engineer or related position which offers key participation, team oriented tasks, immediate challenges, and career opportunity.
20. Professional Objective: Secure a responsible position in account management and serve as an account representative sharing my breadth of experience and abilities effecting mutual employee and employer growth and success.
21. Objective: To obtain a New Business Development position by adding value through utilizing my superior knowledge, prospecting and selling abilities in the business to business arena.
22. Objective: to acquire a challenging career with a solid company utilizing the opportunity to offer proven and developing skills within the company.
23. Objective: Expand leadership responsibilities, improve organizational ability to exceed corporate goals, and help honor all long-term commitments made to customers, stockholders, employees and the communities in which we live.
24. Objective: To work as an ophthalmic assistant or administrator in hospitals, or with professionals as surgeons or physicians with a specialty.
25. Objective: Seeking Position in systems/ or network engineering / Team Lead
26. Objective: Seek to work in an environment that will challenge me further; while allowing me to contribute to the continued growth and success of the organization. Obtain a position that will provide me the ability to apply my sales and work experience to a growing industry. Look forward to working with a company that promotes quality products and services; and provides me with the opportunity to meet and exceed assigned sales goals. Consultative selling approach coupled with the energy and drive as an individual contributor with minimal supervision or team selling environment. Experience with quotas ranging from 15k per month to 800k per year with excellent attainment.
27. Objective: To lead, challenge and be challenged in a marketing strategy or business/market development position. Analyze and improve marketing, sales and operational performance. Develop products, markets and relationships.
28. Objective: An able, enthusiastic, skilled, and reliable computer technician seeking a position that reflects my experience, skills, and personal attributes including dedication, meeting goals, creativity, and the ability to follow through.
29. Objective: Seeking a position in Management
30. Objective: To Acquire A Challenging Position In An Environment Where I Can Best Utilize My Skills And Education.
31. Objective: To obtain a management position, in which I am given the opportunity to play a direct role in the unlimited growth and success of solid organization.
32. Objective: My goal is to obtain a dynamic, challenging opportunity that contributes to the outstanding success of the business via 15+ years Information Technology experience from various global industries.
33. Objective: To secure a position as a public relations / marketing professional in order to utilize my administrative, marketing, and interpersonal skills with accuracy and efficiency while maintaining a motivated, productive, and goal oriented environment for the entire professional team on board while maintaining extensive customer loyalty.
34. Objective: Seeking a sales position with a reparable company on a long term basis who is looking for an experienced, hardworking, detail oriented team player.
35. Career Objective: Looking at new opportunities to leverage my 20+ years professional experience in a New Business Sales capacity to have an immediate impact on new business revenue while increasing profitability.
36. PROFESSIONAL OBJECTIVE: To build upon my existing corporate finance skill set in both analytics and transaction execution, leading to increasingly responsible positions in treasury.
37. Objective: VICE PRESIDENT/DIRECTOR. Travel/Relocate Internationally. Operating business philosophy: Amazing things can be accomplished when no one cares who gets the credit.
38. Objective: To participate as a team member in a dynamic work environment focused on promoting business growth by providing superior value and service
39. Professional Objective: Position in Human Resources, providing opportunity to make a strong contribution by utilizing and expanding upon related education, skills, experiences and capabilities.
40. Objective: To further my experience and knowledge in the field of electronics and warehouse
41. Objective: Position at a leading organization as a financial analyst or trader and continue my education in the financial field by obtaining the CFA designation.
42. Objective: Obtain a management, analyst or consulting position, in the Healthcare IT industry.
43. Objective: To gain long term employment with a company that is on or looking to be on the cutting edge, a company that puts value on people and the products they are promoting. Honest and Ethical, I am looking to call this company my family.
44. CAREER OBJECTIVE: Exploring career opportunities in the to utilize Sales, Account Management and Public Interfacing abilities in a challenging Business Development/Senior Sales Management assignment.
45. Objective: To secure a responsible career opportunity, where I can fully utilize my training, human resource and management skills, while making a significant contribution to the success of my employer.
46. Objective: To apply my expertise as 'Marketing Director' for a dynamic organization that encompasses hiring a marketing director is an investment. An investment that is crucial to the success of almost all aspects of the organization: Business Development, Sales, Customer Retention, Public Relations, Recruiting and Database Management.
47. Objective: I AM A CONSISTENT, HARD WORKING, HIGHLY MOTIVATED PERSON. I ENJOY WORKING WITH THE PUBLIC. I FEEL THAT I AM A FRIENDLY, OUTGOING AND DEPENDABLE PERSON. I FEEL IT IS CRUCIAL TO DEMONSTRATE THE IMPORTANCE OF MY JOB DUTIES AND EXPECTATIONS. I AM LOOKING TO IMPROVE MY POSITION IN THE WORK FORCE, EXPAND MY KNOWLEDGE AND SKILLS. I AM ALSO LOOKING TO ESTABLISH LONG TERM EMPLOYMENT IN A FRIENDLY ENVIRONMENT.
48. Objective: Seeking employment in Transportation Coordination, Equipment Manager, but would enjoy discussing other available positions for which I am qualified.
49. Objective: IT Director – Information Technology Vice President (VP) – Chief Information Officer (CIO) Information Technology senior management, executive position in a leading multinational organization, contributing business value by developing and executing a strategic, long-term vision, while leading the firm to achieve measurable business results and growth, effectively managing the IT portfolio of investments. A strong desire to transform "as-is" organizations into "to-be" market and industry leaders. Additional interest in organizations looking to expand their global presence.
50. Objectives Summary: My objective is to leverage my experience while continuing to be challenged. I have 20 years of experience working for service providers delivering marketing intelligence products and services. My background in Management, Account Management, Project Management and Technical Process Management represent a unique combination of disciplines. Personally, I have the drive and determination to consistently achieve success as a leader in all of the organizations that I have worked with in the past.
Cùng Danh Mục:
Nội Dung Khác